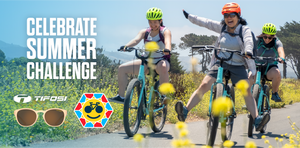 Celebrate Summer Challenge
Congrats! You did it! You completed the Celebrate Summer Challenge and earned your sticker. 
To redeem your sticker for FREE:
Place the sticker in your cart
Locate coupon code in Ride Spot email
Enter coupon code at check out
Get your sticker!
[Shipping is FREE and typically takes ~2 weeks.] 

20 lucky winners will also be selected at random to win a free pair of sunglasses from our friends at Tifosi Optics - check your inbox to see if you were chosen!